FLOW researchers successful in the recent EuroHPC calls for centres of excellence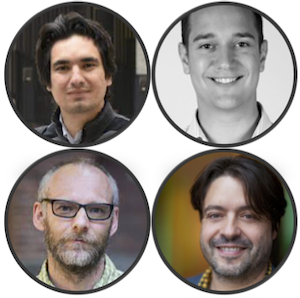 Published Jun 28, 2022
Researchers from the FLOW Centre, together with PDC, have been successful with the latest EuroHPC calls for centres of excellence. The outcome has just been published: Saleh Rezaeiravesh, Timofey Mukha, Adam Peplinski and Philipp Schlatter are part of two successful centres:

"CEEC: Center of Excellence for Exascale CFD" with 9 partners (KTH as coordinator, Thessaloniki, Barcelona, Erlangen, Stuttgart, Magdeburg, Umeå, Copenhagen and BAM Berlin) aims at identifying, improving and implementing novel engineering workflows for the latest modern supercomputers, including aspects such as GPUs, heterogeneous architectures and quantum computing. In particular, focus is also on significant improvement in energy efficiency will be facilitated through efficient exploitation of accelerated hardware architectures (e.g. GPUs) and novel adaptive mixed precision calculations. The efforts of the center are driven by a collection of five different lighthouse cases of significant physical and engineering relevance, ranging from aeronautical to atmospheric flows, with the goal of reaching high technology readiness. All development is done in five European HPC codes which span the entire spectrum of CFD applications, including compressible, incompressible and multiphase flows. The total funding is about 8 MEuro for a duration of 4 years.

"EXCELLERAT P2 – Continuing and extending the European Centre of Excellence for Engineering Applications" with 15 partners (including Stuttgart as coordinator, KTH, Aachen, Cerfacts, DLR, BSC) continues the fruitful partnership of Europe's leading HPC centres, application specialists and supporting partners who have worked with and offered their expertise and knowledge to engineering companies and researchers from across industry and academia for the past three decades. EXCELLERAT P2 will base its evolution and developments on six chosen use cases, requiring the full range of HPC usage profiles, from small scale capacity type applications, all the way to hero run type large scale applications. The total funding is about 6 MEuro for a duration of 4 years

We congratulate our colleagues on this achievement.

For further info see  this document .